I HEARD THE BELLS rings in at YES Cinema
FOR ONE WEEK ONLY!
Set in the 1860s, the film takes viewers on a journey through the life of American-poet, Henry Wadsworth Longfellow, who leads an idyllic life – until the day his world is shattered by tragedy. With a nation divided by Civil War and his family torn apart, Longfellow puts down his pen, silenced by grief. However, it's the sounds of Christmas morning that reignites the poet's lost voice as he discovers resounding hope and a rekindled faith.
"As one of America's best-loved and recognized poets, Longfellow was the voice of culture in that moment of history," said Josh Enck, President and Chief Story Officer of Sight & Sound who also served as director for the film. "And as Sight & Sound's first feature, it embodies our mission to tell true stories about historical figures whose lives changed the world because Christ first changed them."
"We're honored to partner with Fathom Events to bring this redemptive story of faith to movie theaters this Christmas season," said Enck. "We can't wait for people to experience this inspiring true story on the big screen!"
---
Disney's STRANGE WORLD now playing!
Walt Disney Animation Studios' original action-packed adventure "Strange World" introduces a legendary family of explorers, the Clades, as they attempt to navigate an uncharted, treacherous land alongside a motley crew that includes a mischievous blob, a three-legged dog and a slew of ravenous creatures.
---
Classic Christmas Cinema at YES! - tickets on sale
In wishing you the very best this holiday season, RE/MAX real estate professionals are happy to present four favorite holiday classics during the week of Dec. 9th through Dec. 14th.
Happy Holiday's from RE/MAX and YES Cinema!
---
AVATAR: THE WAY OF WATER premieres December 15th!
The sequel to one of the highest grossing films of all time comes to YES Cinema's BIG screen!
Set more than a decade after the events of the first film, "Avatar: The Way of Water" begins to tell the story of the Sully family (Jake, Neytiri, and their kids), the trouble that follows them, the lengths they go to keep each other safe, the battles they fight to stay alive, and the tragedies they endure.
Tickets are on sale now!
---
The new PUSS N' BOOTS comes to YES Cinema December 21st!
This Christmas, everyone's favorite leche-loving, swashbuckling, fear-defying feline returns. For the first time in more than a decade, DreamWorks Animation presents a new adventure in the Shrek universe as daring outlaw Puss in Boots discovers that his passion for peril and disregard for safety have taken their toll. Puss has burned through eight of his nine lives, though he lost count along the wy. Getting those lives back will send Puss in Boots on his grandest quest yet. Academy Award® nominee Antonio Banderas returns as the voice of the notorious PiB as he embarks on an epic journey into the Black Forest to find the mythical Wishing Star and restore his lost lives. But with only one life left, Puss will have to humble himself and ask for help from his former partner and nemesis: the captivating Kitty Soft Paws (Oscar® nominee Salma Hayek). In their quest, Puss and Kitty will be aided--against their better judgment--by a ratty, chatty, relentlessly cheerful mutt, Perro (Harvey Guillén, What We Do in the Shadows). Together, our trio of heroes will have to stay one step ahead of Goldilocks (Oscar® nominee Florence Pugh, Black Widow) and the Three Bears Crime Family, "Big" Jack Horner (Emmy winner John Mulaney, Big Mouth) and terrifying bounty hunter, The Big Bad Wolf (Wagner Moura, Narcos).
---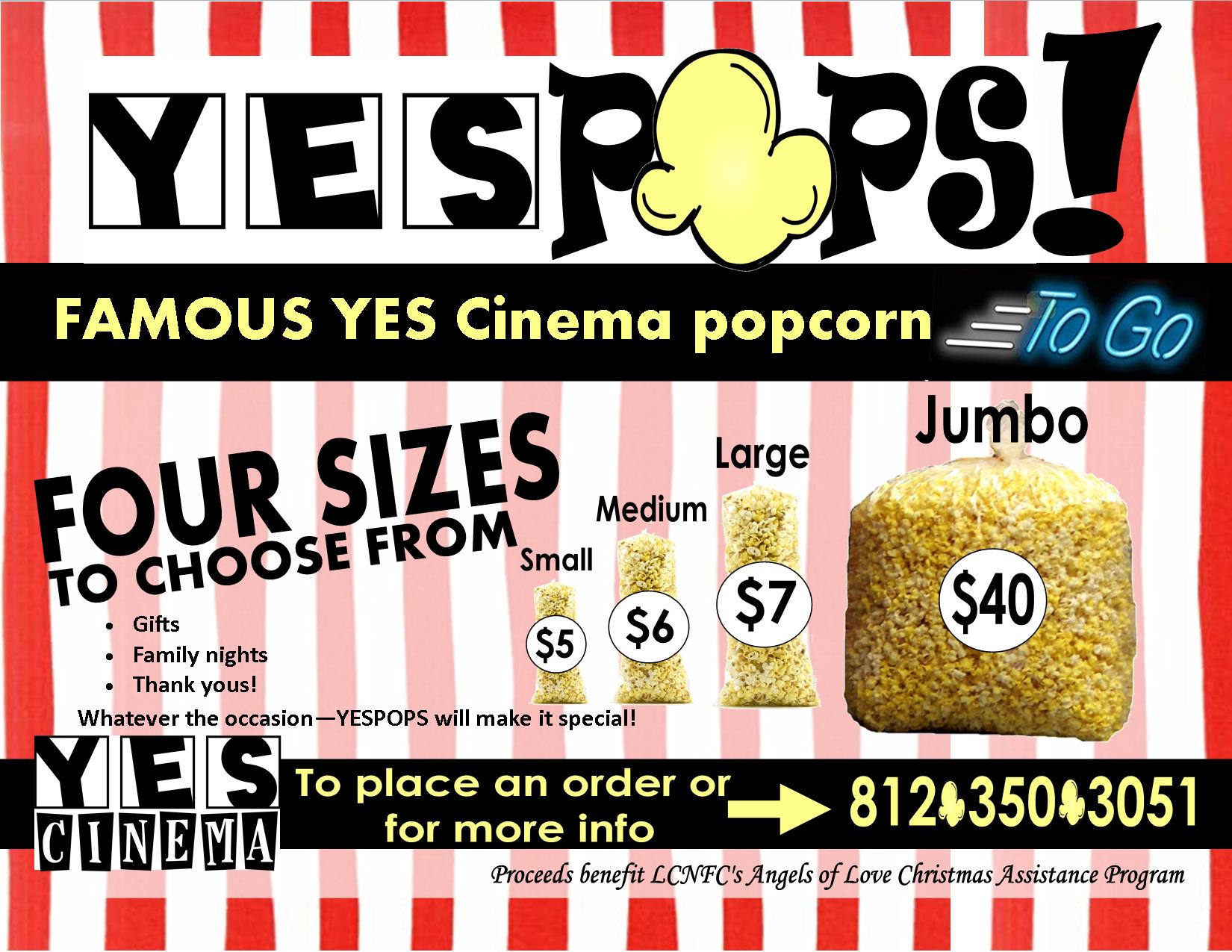 ---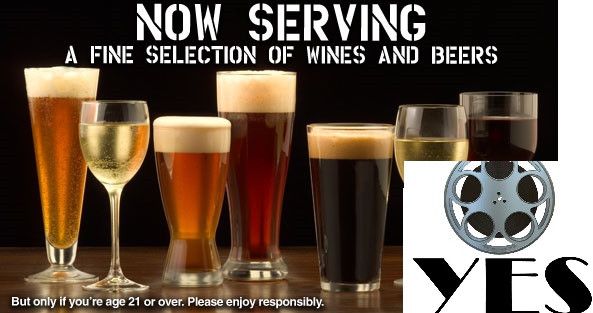 Always drink responsibly
---
Give the gift of movies!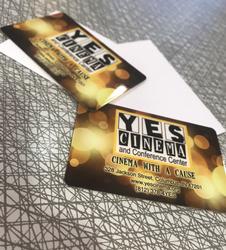 The perfect gift for movie lovers!
They are perfect for the movie lover in your life. YES Gift Cards are valid at the YES Cinema box office, concession stand or bar. Available in any amount - from $5 to $250!
And now you can order virtual gift cards online - click "Gift Certificates" at bottom of page.
---
We're always glad to see our guests at YES Cinema, but because of our liquor license, no food or drink can be carried inside. This even applies to water bottles. (Of course, we sell a variety of food and drink items - including Dasani water, and we have a water fountain)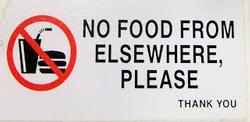 ---
More than a movie theater - Let YES Cinema host your next event!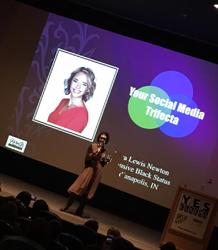 Looking for the perfect place and space to host your next event?
YES Cinema and Conference Center provides the perfect setting for a wide range of events - from meetings and parties to special movie screenings. Contact us at 812-350-3051 or email at yescinemaevents@gmail.com
---
Plenty of FREE Parking for YES Customers!
Free parking on the streets and the City Garage at 4th & Jackson
Hours – 6:00 a.m. – 8:00 p.m. Monday – Friday (see daily parking rates)
After hours and weekends – FREE
Free parking is also available at The Cole Garage at 3rd & Jackson
Open to Public (free) – Monday-Friday evenings and weekends
NOTE: Top floor (roof) of parking garages CLOSE at 8:00 PM and all automobiles should be off the roof of the garage by that time. Parking on all floors, other than the roof, is available 24/7.
---
For security concerns, no backpacks are allowed at YES Cinema. If guests must enter our theatre with a backpack, we will ask to keep it for them - or it may be subject to search. We appreciate everyone's understanding in this measure to ensure everyone's safety.
---
---
YES Cinema Trivia!
What film was playing when the Great Flood of 2008 hit Columbus and knocked out our power? - The Rolling Stones "Shine a Light"
What was the first film shown at YES Cinema? - WHITE CHRISTMAS played at Christmas in 2004
What film holds the box office record at YES? - COLUMBUS (2017) of course!
When did the YES Film Festival begin? - 2010 (We moved from November of one year to May 18 months later… so we missed one year).
YESfest has screened films with major stars, such as Richard Dreyfus and Tatiana Maslany (both proud Canadians), Sean Astin, Dick Van Dyle, and Eli Wallach (in his last film)
When did the Lincoln-Central Neighborhood Family Center open? - June, 1994
Manager Dawn Bieberle is also the Self-Sufficiency Coach for the Bartholomew County Works program
The 2019 YES Film Festival Audience Award Winner for Short Films was given to MIDWESTERN, filmed partly in Hope, Indiana and directed by Nick Rieth, and co-produced by Hope's own Daniel Anderson
---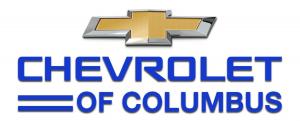 Chevrolet of Columbus - A Valued Sponsor of YES Cinema!
We are happy to have Chevrolet of Columbus as an official Sponsor of YES Cinema Programming. Our friends at Chevrolet of Columbus strongly believe in the importance of community! This new partnership will help the LCNFC better meet the needs of those we serve! We urge you to visit Chevrolet of Columbus in person and while you are there please tell them how much you appreciate their support of the LCNFC and YES Cinema!
Visit their facility at 2825 Merchant Mile, next to Sam's Club.
---
All tickets purchased are non-refundable with no exchanges. Films and Events are subject to change.
For R rated films, children under the age of 17 must be accompanied by an adult.
YES Cinema does not show films in 3D.