---
See Shang-Chi and the Legend of the Ten Rings at YES! - Held Over
Ready for another great Marvel movie? Of course, you are! From the Hollywood premiere of Shang-Chi and the Legend of the Ten Rings, critics shared unanimous praise on social media for the story, action, performances, and more. The film stars Simu Liu as Shang-Chi, who must confront the past he thought he left behind when he is drawn into the web of the mysterious Ten Rings organization. Stars Tony Leung as Wenwu, Awkwafina as Shang-Chi's friend Katy and Michelle Yeoh as Jiang Nan, as well as Fala Chen, Meng'er Zhang, Florian Munteanu and Ronny Chieng.
Presented with our new Laser Projector!
Shang-Chi is fantastic… Marvel has another hit on its hands.
– Kirsten Acuna, Insider
Shang-Chi is awesome… Bravo!
– Brandon Davis, ComicBook.com
Shang-Chi is an absolute triumph… Astounding.
– Drew Taylor, Collider
One of the best MCU films ever!!!!
– John Nguyen, Nerd Reactor
---
Clint Eastwood's CRY MACHO now on the BIG screen at YES! - Held Over
From Warner Bros. Pictures comes (91 years old) director/producer Clint Eastwood's uplifting and poignant drama "Cry Macho." The film stars Eastwood as Mike Milo, a one-time rodeo star and washed-up horse breeder who, in 1979, takes a job from an ex-boss to bring the man's young son home from Mexico. Forced to take the backroads on their way to Texas, the unlikely pair faces an unexpectedly challenging journey, during which the world-weary horseman finds unexpected connections and his own sense of redemption. (Shown with our new Laser Projector)
---
America's Favorite Family is Back! (Sept. 30 Premiere)
Everyone's favorite spooky family is back in the animated comedy sequel, The Addams Family 2. In this all new movie we find Morticia and Gomez distraught that their children are growing up, skipping family dinners, and totally consumed with "scream time." To reclaim their bond they decide to cram Wednesday, Pugsley, Uncle Fester and the crew into their haunted camper and hit the road for one last miserable family vacation. Their adventure across America takes them out of their element and into hilarious run-ins with their iconic cousin, IT, as well as many new kooky characters. What could possibly go wrong?
Featuring the voice talents of Oscar Isaac, Charlize Theron, Chloë Grace Moretz, Nick Kroll, Bette Midler, and we know this is hard to believe, but Wallace Shawn.
---
VENOM is Coming! (Sept. 30 Premiere)
Over a year after the events of Venom (2018), investigative journalist Eddie Brock struggles to adjust to life as the host of the alien symbiote Venom, which grants him super-human abilities in order to be a lethal vigilante. Brock attempts to reignite his career by interviewing serial killer Cletus Kasady, who becomes the host of the symbiote Carnage and escapes prison after a failed execution.
it is intended to be the second film in Sony's Spider-Man Universe and the sequel to Venom (2018). The film is directed by Andy Serkis from a screenplay by Kelly Marcel, based on a story she wrote with Tom Hardy who stars as Eddie Brock / Venom alongside Michelle Williams, Naomie Harris, Reid Scott, Stephen Graham, and Woody Harrelson.
---
James Bond will NOT return at YES Cinema! We are bummed we could not work out a booking for NO TIME TO DIE.
So we recommend you see it at the downtown INDY IMAX!
---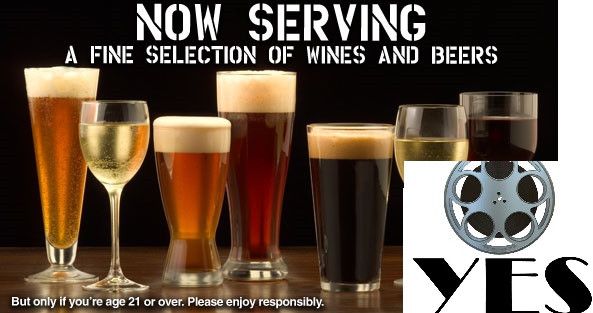 ---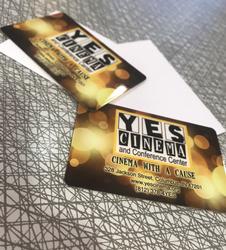 Give the gift of movies!
They are perfect for the movie lover in your life. YES Gift Cards are valid at the YES Cinema box office, concession stand or bar. Available in any amount - from $5 to $250!
And now you order tickets online - click "Gift Certificates" at bottom of page.
---
We're always glad to see our guests at YES Cinema, but because of our liquor license, no food or drink can be carried inside. This even applies to water bottles. (Of course, we sell a variety of food and drink items - including Dasani water, and we have a water fountain)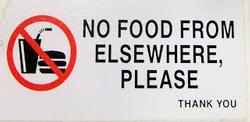 ---
More than a movie theater - Let YES Cinema host your next event! Catering Available!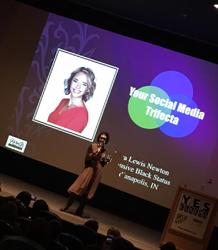 Looking for the perfect place and space to host your next event?
YES Cinema and Conference Center provides the perfect setting for a wide range of events - from meetings and parties to special movie screeings. Contact us at 812-350-3051 or email at yescinemaevents@gmail.com
---
Plenty of FREE Parking for YES Customers!
Free parking on the streets and the City Garage at 4th & Jackson
Hours – 6:00 a.m. – 8:00 p.m. Monday – Friday (see daily parking rates)
After hours and weekends – FREE
Free parking is also available at The Cole Garage at 3rd & Jackson
Open to Public (free) – Monday-Friday evenings and weekends
NOTE: Top floor (roof) of parking garages CLOSE at 8:00 PM and all automobiles should be off the roof of the garage by that time. Parking on all floors, other than the roof, is available 24/7.
---
For security concerns, no backpacks are allowed at YES Cinema. This includes kiddie backpacks. If guests must enter our theatre with a backpack, we will ask to keep it for them - or it may be subject to search. We appreciate everyone's understanding in this measure to ensure everyone's safety.
---
---
YES Cinema Trivia!
What film was playing when the Great Flood of 2008 hit Columbus and knocked out our power? - The Rolling Stones "Shine a Light"
What was the first film shown at YES Cinema? - WHITE CHRISTMAS played at Christmas in 2004
What film holds the box office record at YES? - COLUMBUS (2017) of course!
When did the YES Film Festival begin? - 2010 (We moved from November of one year to May 18 months later… so we missed one year).
YESfest has screened films with major stars, such as Richard Dreyfus and Tatiana Maslany (both proud Canadians), Sean Astin, Dick Van Dyle, and Eli Wallach (in his last film)
When did the Lincoln-Central Neighborhood Family Center open? - June, 1994 (Celebrating 25 years!)
Newest Manager Dawn Bieberle is also the Self-Sufficiency Coach for the Bartholomew County Works program
The 2019 YES Film Festival Audience Award Winner for Short Films was given to MIDWESTERN, filmed partly in Hope, Indiana and directed by Nick Rieth, and co-produced by Hope's own Daniel Anderson
---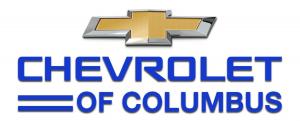 Chevrolet of Columbus - A Valued Sponsor of YES Cinema!
We are happy to have Chevrolet of Columbus as an official Sponsor of YES Cinema Programming. Our friends at Chevrolet of Columbus strongly believe in the importance of community! This new partnership will help the LCNFC better meet the needs of those we serve! We urge you to visit Chevrolet of Columbus in person and while you are there please tell them how much you appreciate their support of the LCNFC and YES Cinema!
Visit their facility at 2825 Merchant Mile, next to Sam's Club.
---
All tickets purchased are non-refundable with no exchanges. Films and Events are subject to change.
YES Cinema does not show films in 3D.