Liam Neesom stars in THE MARKSMAN - now at YES Cinema!
Hardened Arizona rancher Jim Hanson (Liam Neeson) simply wants to be left alone as he fends off eviction notices and tries to make a living on an isolated stretch of borderland. But everything changes when Hanson, an ex-Marine sharpshooter, witnesses 11-year-old migrant Miguel (Jacob Perez) fleeing with his mother Rosa (Teresa Ruiz) from drug cartel assassins led by the ruthless Mauricio (Juan Pablo Raba). After being caught in a shoot-out, a dying Rosa begs Jim to take her son to safety to her family in Chicago. Defying his cop daughter Sarah (Katheryn Winnick), Jim sneaks Miguel out of the local U.S. Customs and Border Patrol station and together, they hit the road with the group of killers in pursuit. Jim and Miguel slowly begin to overcome their differences and begin to forge an unlikely friendship, while Mauricio and his fellow assassins blaze a cold-blooded trail, hot on their heels. When they finally meet on a Midwestern farm, a fight to the death ensues as Jim uses his military skills and code of honor to defend the boy he's come to love. - Rotten Tomatoes
---
TOM HANKS STARS in NEWS OF THE WORLD - Held Over!
This Christmas, Universal Pictures and YES Cinema is proud to present Tom Hanks starring in "News of the World," a moving story written and directed by Paul Greengrass, reuniting for the first time with his star from their 2013 Best Picture nominee Captain Phillips.
Five years after the end of the Civil War, Captain Jefferson Kyle Kidd (Hanks), a veteran of three wars, now moves from town to town as a non-fiction storyteller, sharing the news of presidents and queens, glorious feuds, devastating catastrophes, and gripping adventures from the far reaches of the globe.
In the plains of Texas, he crosses paths with Johanna (Helena Zengel), a 10-year-old taken in by the Kiowa people six years earlier and raised as one of their own. Johanna, hostile to a world she's never experienced, is being returned to her biological aunt and uncle against her will.
Kidd agrees to deliver the child where the law says she belongs. As they travel hundreds of miles into the unforgiving wilderness, the two will face tremendous challenges of both human and natural forces as they search for a place that either can call home.
News of the World is directed by Greengrass (the Bourne films, United 93) from his screenplay with Luke Davies (Lion), based on the National Book Award finalist and best-selling novel by Paulette Jiles. Also starring Ray McKinnon, Mare Winningham, Elizabeth Marvel.
---
Coming Friday, Jan. 29 - Denzel Washington in THE LITTLE THINGS
Academy Award winners Denzel Washington ("Training Day," "Glory"), Rami Malek ("Bohemian Rhapsody") and Jared Leto ("Dallas Buyers Club") star in the psychological thriller "The Little Things." John Lee Hancock ("The Blind Side," "Saving Mr. Banks," "The Founder") directed the film from his own original screenplay.
Kern County Deputy Sheriff Joe "Deke" Deacon (Washington) is sent to Los Angeles for what should have been a quick evidence-gathering assignment. Instead, he becomes embroiled in the search for a killer who is terrorizing the city. Leading the hunt, L.A. Sheriff Department Sergeant Jim Baxter (Malek), impressed with Deke's cop instincts, unofficially engages his help. But as they track the killer, Baxter is unaware that the investigation is dredging up echoes of Deke's past, uncovering disturbing secrets that could threaten more than his case. Rated R for violent/disturbing images, language and full nudity.
---
Judas and the Black Messiah comes to YES February 12th
FBI informant William O'Neal infiltrates the Illinois Black Panther Party and is tasked with keeping tabs on their charismatic leader, Chairman Fred Hampton. A career thief, O'Neal revels in the danger of manipulating both his comrades and his handler, Special Agent Roy Mitchell. Hampton's political prowess grows just as he's falling in love with fellow revolutionary Deborah Johnson. Meanwhile, a battle wages for O'Neal's soul. Will he align with the forces of good? Or subdue Hampton and The Panthers by any means, as FBI Director J. Edgar Hoover commands? Based on real events. Rated R forviolence and pervasive language. Stars Daniel Kaluuya, LaKeith Stanfield, Jesse Plemons, and Martin Sheen. Rated R for violence and pervasive language.
---
RENT OUR THEATRE FOR PRIVATE PARTIES! - Starting at $99
YES CINEMA PRIVATE VIEWING PARTY INFORMATION
How many people can I bring to a YES Cinema Private Viewing Party?
* You may bring up to 20 guests including yourself. Prices range from $99 for fan favorites-$149 for new releases. You can add additional attendees to your party for $5 per person, up to 50 guests.
What movie can we watch?
* Choose from one of our all-time, fan-favorite movies or a new release. Contact our Events Coordinator at 812-350-3051 to hear the available selections.
Are there any restrictions?
* YES Cinema Private Viewing Parties are being offered for a limited time. They are for private use only. Seats/tickets cannot be resold and tax exemptions and credits are not applicable. All pricing is subject to change and there are no substitutions or rainchecks. Movie selection is subject to change. Price does not include tax or applicable online fees. Offer includes auditorium rental for one selected film only. No Outside Food, Candy or Beverages can be brought into YES Cinema.
What are you doing to keep your guests, employees and theatres clean and safe?
* The health and well-being of our guests, employees and community is our top priority. We follow the "Safe & Clean YES Cinema" criteria and protocols, i.e. safe seating distancing, enhanced cleaning procedures, plastic shields, additional hand sanitizer stations and more.
Do we need to wear masks?
* Yes. For the safety of our guests, employees, and communities, and in accordance with Indiana state-wide mandates, we require that face masks be worn throughout our entire facility. Masks may be removed when eating and drinking inside the auditorium. Guests will have their temperatures taken before entering the Lobby.
What should I do before arriving at the theatre for my Private Viewing Party?
* Your movie will begin at the scheduled show time, so please plan to arrive together at least 30 minutes prior to allow sufficient time to purchase concessions.
Can I decorate the auditorium for my Private Viewing Party?
* Due to safety and cleaning concerns as well as overall movie presentation quality, decorations are not permitted in the auditorium at this time.
*Please ensure that all guests exit the auditorium promptly so our employees have adequate time for cleaning and sanitizing.
*Goody bags may be distributed as guests exit the auditorium, but we ask that they not contain food, candy or beverages.
If I have additional questions or concerns, who should I call?
* Please Contact our Events Coordinator at 812-350-3051
---
YES Cinema - More Clean than Ever!
Staff wearing masks and gloves

Plastic partitions throughout lobby and bar areas

Temperatures taken at the time of arrival

Seats grouped in blocks to ensure physical distancing

Restrooms monitored

Extra cleaning regimens

Six foot distancing with one customer transaction at a time

a friendly reminder that the State of Indiana's mask mandate is in effect, which includes YES Cinema

Once seated, customers may remove the mask while eating

Same friendly staff

Same great concessions

YES still shows the best

We are cleaner, fresher and safer than ever before
---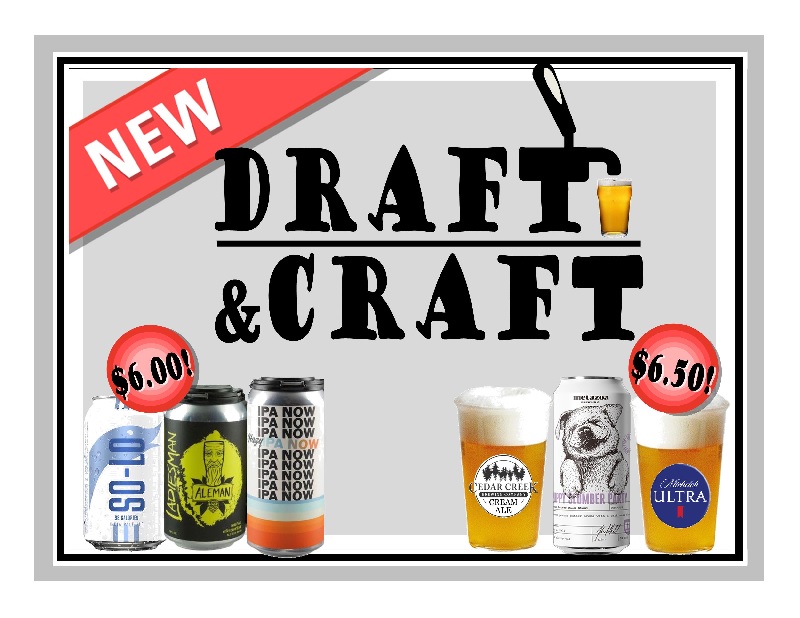 ---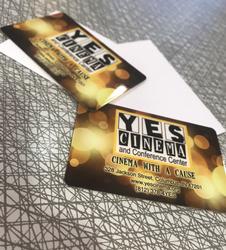 Give the gift of movies!
They are perfect for the movie lover in your life. YES Gift Cards are valid at the YES Cinema box office, concession stand or bar. Available in any amount - from $5 to $250!
And now you order tickets online - click "Gift Certificates" at bottom of page.
---
We're always glad to see our guests at YES Cinema, but because of our liquor license, no food or drink can be carried inside. This even applies to water bottles. (Of course, we sell a variety of food and drink items - including Dasani water, and we have a water fountain)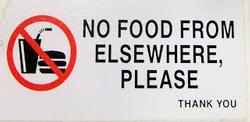 ---
More than a movie theater - Let YES Cinema host your next event! Catering Available!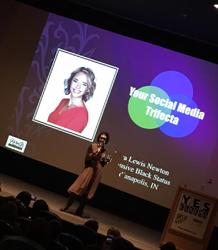 Looking for the perfect place and space to host your next event?
YES Cinema and Conference Center provides the perfect setting for a wide range of events - from meetings and parties to special movie screeings. Contact us at 812-350-3051 or email at yescinemaevents@gmail.com
---
Plenty of FREE Parking for YES Customers!
Free parking on the streets and the City Garage at 4th & Jackson
Hours – 6:00 a.m. – 8:00 p.m. Monday – Friday (see daily parking rates)
After hours and weekends – FREE
Free parking is also available at The Cole Garage at 3rd & Jackson
Open to Public (free) – Monday-Friday evenings and weekends
NOTE: Top floor (roof) of parking garages CLOSE at 8:00 PM and all automobiles should be off the roof of the garage by that time. Parking on all floors, other than the roof, is available 24/7.
---
For security concerns, no backpacks are allowed at YES Cinema. This includes kiddie backpacks. If guests must enter our theatre with a backpack, we will ask to keep it for them - or it may be subject to search. We appreciate everyone's understanding in this measure to ensure everyone's safety.
---
---
YES Cinema Trivia!
What film was playing when the Great Flood of 2008 hit Columbus and knocked out our power? - The Rolling Stones "Shine a Light"
What was the first film shown at YES Cinema? - WHITE CHRISTMAS played at Christmas in 2004
What film holds the box office record at YES? - COLUMBUS (2017) of course!
When did the YES Film Festival begin? - 2010 (We moved from November of one year to May 18 months later… so we missed one year).
YESfest has screened films with major stars, such as Richard Dreyfus and Tatiana Maslany (both proud Canadians), Sean Astin, Dick Van Dyle, and Eli Wallach (in his last film)
When did the Lincoln-Central Neighborhood Family Center open? - June, 1994 (Celebrating 25 years!)
Newest Manager Dawn Bieberle is also the Self-Sufficiency Coach for the Bartholomew County Works program
The 2019 YES Film Festival Audience Award Winner for Short Films was given to MIDWESTERN, filmed partly in Hope, Indiana and directed by Nick Rieth, and co-produced by Hope's own Daniel Anderson
---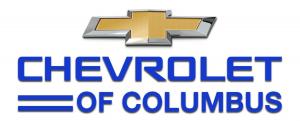 Chevrolet of Columbus - A Valued Sponsor of YES Cinema!
We are happy to have Chevrolet of Columbus as an official Sponsor of YES Cinema Programming. Our friends at Chevrolet of Columbus strongly believe in the importance of community! This new partnership will help the LCNFC better meet the needs of those we serve! We urge you to visit Chevrolet of Columbus in person and while you are there please tell them how much you appreciate their support of the LCNFC and YES Cinema!
Visit their facility at 2825 Merchant Mile, next to Sam's Club.
---
All tickets purchased are non-refundable with no exchanges. Films and Events are subject to change.
YES Cinema does not show films in 3D.