---
WON'T YOU BE MY NEIGHBOR now at YES!
From Academy Award-winning filmmaker Morgan Neville (20 Feet from Stardom), Won't You Be My Neighbor? takes an intimate look at America's favorite neighbor: Mister Fred Rogers. A portrait of a man whom we all think we know, this emotional and moving film takes us beyond the zip-up cardigans and the land of make-believe, and into the heart of a creative genius who inspired generations of children with compassion and ess imagination.
Special thanks to Columbus Area Arts Council, the Indiana Arts Commission, and the National Endowment for the Arts for sponsoring this moving film at YES Cinema.
The film is Rated PG-13 for some thematic elements and language.
---
One year later, COLUMBUS returns to YES Cinema - and now with deleted scenes!
COLUMBUS is a film that rewards a person with repeated viewings. The film can be slyly mysterious from a structural standpoint, both with respect to the plot's elisions and several cuts that demand that viewers fill in the blanks. The movie leaves quite a bit to the eye of the beholder, but it's always worth looking at.
Bonus features include a unique short film by Kogonada about the city of Columbus and the building that changed its destiny and deleted movie scenes from locales such as the Crump Theatre and Hamilton Community Center Ice Arena.
More info to come about an Exclusive Event on August 31 with the Irwin Inn for Advanced COLUMBUS Movie Ticket Buyers!
---
Tennessee Williams Free Film Series
The IUPUC Division of Liberal Arts is sponsoring a free Tennessee Williams film series at Yes Cinema this fall. Dr. Lisa Siefker Bailey is teaching a class on Tennessee Williams and film, and IUPUC is pleased to offer these film screenings to the community free of charge. (Concessions will be available for purchase)
The four films are:
August 27 at 3 p.m.| A Streetcar Named Desire, starring Marlon Brando and Vivien Leigh

September 17 at 3 p.m. | Cat on a Hot Tin Roof, starring Paul Newman and Elizabeth Taylor

October 29 at 3 p.m. | Summer and Smoke, starring Laurence Harvey and Geraldine Page

November 19 at 3 p.m. | Baby Doll, starring Eli Wallach and Carrol Baker

Films will be introduced by Dr. Lisa Siefker Bailey
---
YES Cinema Cafe Special Fundraiser Wednesday August 15th, 11am-1:30pm
Save the date...and your appetite!
Remember the YES Cinema Café? Many of you loved it and were sad to see it go away. Well now its back (one day only) and for a GREAT Cause! We hope to see you Wednesday, August 15 for some great food and to show your support for LCNFC's Angels of Love (Christmas Assistance) Program! Dine-in or call ahead for carryout. You will be happy you did!
For carry-out orders, call 812-378-0377 (after 10am on Aug, 15)
---
Our new YES Cinema Gift Cards make a great gift for any occasion!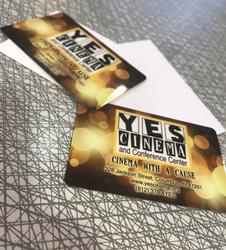 They are perfect for the movie lover in your life. YES Gift Cards are valid at the YES Cinema box office, concession stand or bar. Available in any amount - from $5 to $250!
Please purchase Gift Cards at the theatre during movie showtimes - also over the phone for out-of-town orders!
---
More than a movie theater - Let YES Cinema host your next event! Catering Available!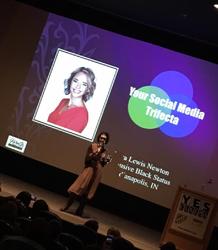 Looking for the perfect place and space to host your next event?
YES Cinema and Conference Center provides the perfect setting for a wide range of events - from meetings and parties to special movie screeings. Contact us at 812-350-3051 or email at yescinemaevents@gmail.com
---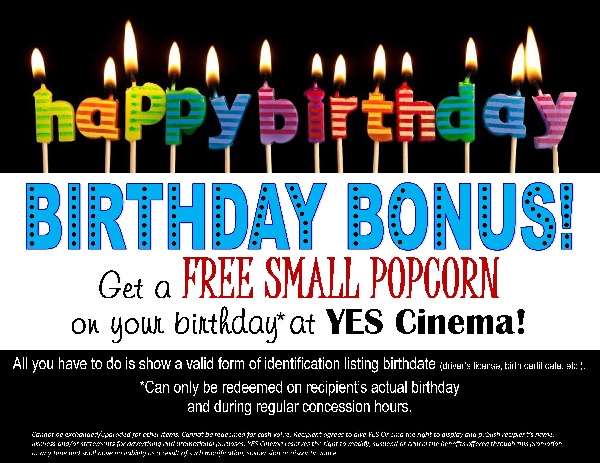 ---
YES Cinema Trivia!
What film was playing when the Great Flood of 2008 hit Columbus and knocked out our power? - The Rolling Stones "Shine a Light"
What was the first film shown at YES Cinema? - WHITE CHRISTMAS played at Christmas in 2004
What film holds the box office record at YES? - COLUMBUS (2017) of course!
When did the YES Film Festival begin? - 2010
When did the Lincoln-Central Neighborhood Family Center open? - June, 1994
---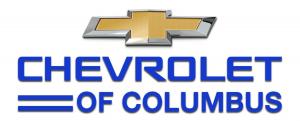 Chevrolet of Columbus - A Valued Sponsor of YES Cinema!
We are happy to have Chevrolet of Columbus as an official Sponsor of YES Cinema Programming. Our friends at Chevrolet of Columbus strongly believe in the importance of community! This new partnership will help the LCNFC better meet the needs of those we serve! We urge you to visit Chevrolet of Columbus in person and while you are there please tell them how much you appreciate their support of the LCNFC and YES Cinema!
Visit their new facility at 2825 Merchant Mile, next to Sam's Club.
---
Films and Events are subject to change