MIKE ARMSTONG Brings Laughs to YES Cinema on New Year's Eve!
Mike Armstrong will be the first to say that he has no idea why he is the way he is, but you can bet, anyone around Mike will be laughing until their sides hurt. Come hear Mike as he tells the story of his life through his jokes. After all, is there anything better than spending some time laughing with Mike? A real Southern gentleman, Mike is frequently referred to as, "everyone's favorite former cop," Mike has been making audiences laugh for over thirty years. He is hysterical!
With appearances on HBO, Comedy Central, Fox and CMT, Mike is everyone's best friend while providing an event full of good "clean" fun and entertainment. Mike is simply one of the funniest men doing comedy today.
From a fan of Mike's - "Mike is fabulous - so funny, clean and just a fun guy all around - his laugh is so contagious, he doesn't even have to tell jokes - if he just stood up there and laughed the whole audience would laugh with him and not even notice he wasn't telling jokes. Love the guy - and his jokes ARE hilarious!"
Rated PG 13 (suitable for the whole family) - TWO shows: 7 & 9:30 p.m. New Year's Eve, Tuesday, Dec. 31
Tickets are $20 in advance and $25 at the door and will be available Friday after Thanksgiving! For more info 812-379-1630. (Sponsored by: Hotel Indigo & QMIX 107.3)
---
A Beautiful Day in the Neighborhood ends Wednesday!
Much like the beloved TV personality that inspired it, A Beautiful Day in the Neighborhood offers a powerfully affecting message about acceptance and understanding. Two-time Oscar®-winner Tom Hanks portrays Mister Rogers in A Beautiful Day in the Neighborhood, a timely story of kindness triumphing over cynicism, based on the true story of a real-life friendship between Fred Rogers and journalist Tom Junod. After a jaded magazine writer (Emmy winner Matthew Rhys, "The Americans") is assigned a profile of Fred Rogers, he overcomes his skepticism, learning about empathy, kindness, and decency from America's most beloved neighbor. Also starring Christine Lahti, Chris Cooper, Enrico Colantoni ("Veronica Mars"), Tammy Blanchard, and directed by Marielle Heller (CAN YOU EVER FORGIVE ME?)
---
JUMANJI: THE NEXT LEVEL starts Thursday at YES Cinema
A couple of years ago, Columbua Pictures rebooted the original 1995 JUMANJI film that starred Robin Williams with an all new cast, starring Dwayne "The Rock" Johnson. It was such a fun success, we're on to more adventures! In Jumanji: The Next Level, the gang is back but the game has changed. As they return to Jumanji to rescue one of their own, they discover that nothing is as they expect. The players will have to brave parts unknown and unexplored, from the arid deserts to the snowy mountains, in order to escape the world's most dangerous game.
---
STAR WARS: THE RISE OF SKYWALKER tickets on sale!
No one's ever really gone... Rey's journey continues and the Skywalker saga concludes in Star Wars: The Rise of Skywalker, as the survivng Resistance face the First Order once more in the final chapter of the Skywalker saga. Stars Daisy Ridley, Oscar Isaac, John Boyega, Indiana's own Adam Driver, J.J. Abrams good luck charm Greg Grunberg, and Keri Russel. With Billy Dee Willaims returning as Landro Calrissian...and Mark Hamill and Carre Fisher. Director J.J. Abrams reurns to the helm, and co-wrote the screenplay with Chris Terrio. Every generation has it's legends - Star Wars is ours.
---
---
WEEKDAYS JUST GOT BETTER AT YES CINEMA!
Monday Mania - Purchase a Large Popcorn tub (includes one free refill) for the price of a small popcorn!
Wine Down Wednesdays - Purchase a glass of wine for $1.25 off the regular price!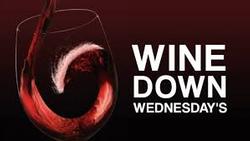 ---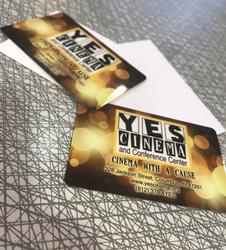 Give the gift of movies!
They are perfect for the movie lover in your life. YES Gift Cards are valid at the YES Cinema box office, concession stand or bar. Available in any amount - from $5 to $250!
Please purchase Gift Cards at the theatre during movie showtimes - also over the phone for out-of-town orders!
---
We're always glad to see our guests at YES Cinema, but because of our liquor license, no food or drink can be carried inside. This even applies to water bottles. (Of course, we sell a variety of food and drink items - including Dasani water, and we have a water fountain)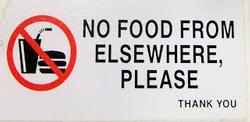 ---
More than a movie theater - Let YES Cinema host your next event! Catering Available!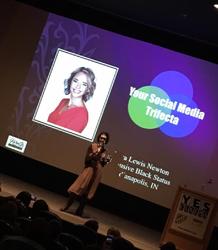 Looking for the perfect place and space to host your next event?
YES Cinema and Conference Center provides the perfect setting for a wide range of events - from meetings and parties to special movie screeings. Contact us at 812-350-3051 or email at yescinemaevents@gmail.com
---
Plenty of FREE Parking for YES Customers!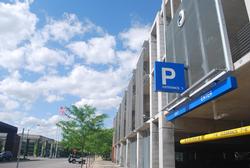 Free parking on the streets and the City Garage at 4th & Jackson
Hours – 6:00 a.m. – 8:00 p.m. Monday – Friday (see daily parking rates)
After hours and weekends – FREE
Free parking is also available at The Cole Garage at 3rd & Jackson
Open to Public (free) – Monday-Friday evenings and weekends
NOTE: Top floor (roof) of parking garages CLOSE at 8:00 PM and all automobiles should be off the roof of the garage by that time. Parking on all floors, other than the roof, is available 24/7.
---
For security concerns, no backpacks are allowed at YES Cinema. This includes kiddie backpacks. If guests must enter our theatre with a backpack, we will ask to keep it for them - or it may be subject to search. We appreciate everyone's understanding in this measure to ensure everyone's safety.
---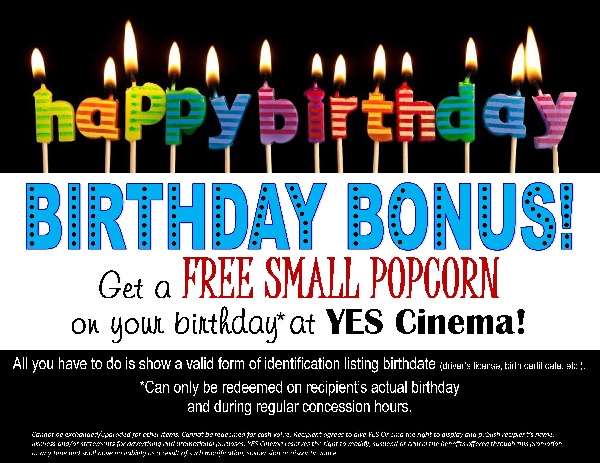 ---
YES Cinema Trivia!
What film was playing when the Great Flood of 2008 hit Columbus and knocked out our power? - The Rolling Stones "Shine a Light"
What was the first film shown at YES Cinema? - WHITE CHRISTMAS played at Christmas in 2004
What film holds the box office record at YES? - COLUMBUS (2017) of course!
When did the YES Film Festival begin? - 2010 (We moved from November of one year to May 18 months later… so we missed one year).
YESfest has screened films with major stars, such as Richard Dreyfus and Tatiana Maslany (both proud Canadians), Sean Astin, Dick Van Dyle, and Eli Wallach (in his last film)
When did the Lincoln-Central Neighborhood Family Center open? - June, 1994 (Celebrating 25 years!)
Newest Manager Dawn Bieberle is also the Self-Sufficiency Coach for the Bartholomew County Works program
The 2019 YES Film Festival Audience Award Winner for Short Films was given to MIDWESTERN, filmed partly in Hope, Indiana and directed by Nick Rieth, and co-produced by Hope's own Daniel Anderson
---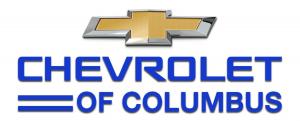 Chevrolet of Columbus - A Valued Sponsor of YES Cinema!
We are happy to have Chevrolet of Columbus as an official Sponsor of YES Cinema Programming. Our friends at Chevrolet of Columbus strongly believe in the importance of community! This new partnership will help the LCNFC better meet the needs of those we serve! We urge you to visit Chevrolet of Columbus in person and while you are there please tell them how much you appreciate their support of the LCNFC and YES Cinema!
Visit their new facility at 2825 Merchant Mile, next to Sam's Club.
---
All tickets purchased are non-refundable with no exchanges. Films and Events are subject to change.
YES Cinema does not show films in 3D.